Home > Customers > Credit Guarantee
Team Building Events facilitated for Credit Guarantee by TBAE

Credit Guarantee Insurance Corporation is a South African underwriting company operating in the field of export and domestic credit insurance. They provide various surety and bonds through a specialised business unit and since the advent of business rescue, a dedicated recovery and salvage unit was established to deal with the sometimes, hugely intricate restructuring required to ensure that both their clients interests as well as that of Credit Guarantee are preserved.
Some of the Team Building Events facilitated for Credit Guarantee
Credit Guarantee Minute To Win It Challenge team building event at Southern Sun Elangeni and Maharni Hotel in Durban
It was a great pleasure to host this group from Credit Guarantee at Southern Sun Elangeni and Maharni for their Minute To Win It Team Building Event. For the Minute To Win It activity, your group will be divided into teams which will compete against each other in a variety of challenges which have to be completed in one minute. The event starts with a team building ice breaker that is also used to divide the group into teams. The ice breaker is designed to divide the group up in a way that 'cliques' are separated and new relationships formed. The group from Credit Guarantee certainly enjoyed these Minute To Win It activities facilitated for them.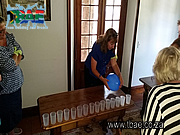 Credit Guarantee Minute To Win It Challenge team building event at Lanzerac Hotel and Spa in Stellenbosch
This was one of the first events facilitated by TBAE in 2015, and in keeping with our successful events. The group from Credit Guarantee chose TBAE's highly popular Minute To Win It themed team building event. Participants need to complete various activities within a one minute period. The difficulty of the activities increased as the event progressed. The event took place at the Lanzerac Estate situated in the Jonkershoek Valley, on the outskirts of the historic town of Stellenbosch


More companies that selected TBAE to arrange their team building events.