Home > Customers > Deaf Community of Cape Town
Team Building Events facilitated for Deaf Community of Cape Town by TBAE

DCCT is a non-governmental welfare organization whose aim is to address the needs of Deaf people in the Western Cape. The organization has an active Deaf membership of 1090 members from whom direction is received. Those with voting powers on the executive committee are all Deaf members, and as such, DCCT has been a pioneer in South Africa, in placing Deaf people in positions of leadership. There are various projects undertaken by DCCT that are aimed at development and empowerment of Deaf people.
Some of the Team Building Events facilitated for Deaf Community of Cape Town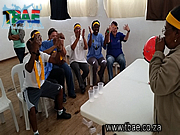 Deaf Community of Cape Town Minute To Win It and Indoor Combo team building event in Cape Town
The themes were the popular Minute To Win It and the successful Creative Construction themes. In Creative Construction team building event, emphasis is placed on the importance of planning, creativity and teamwork in the workplace through a variety of challenges involving building or construction. The Minute to Win It team building event is based on the television game show. Team members need to complete a series of challenges within one minute. This is one of TBAE's most popular team building events and allows for fantastic team participation, excitement and laughter.

More companies that selected TBAE to arrange their team building events.