Home > Customers > Lightstone Property
Team Building Events facilitated for Lightstone Property by TBAE

Lightstone was founded in 2005 to develop tools to help mortgage lenders better manage their property risk. Since then they have gone on to develop extensive solutions for mortgage lenders and adapted their services to provide relevant support to Insurers, Estate Agents, Valuers, Municipalities and other Property Professionals. Whilst they initially focused on residential property, they now also offer a range of commercial property solutions and are increasingly partnering with companies to provide more comprehensive property data products and solutions.

Lightstone Property Team Building Events Testimonials
"Many thanks for the Team Building today,
It was really great and James was awesome!"
Esteani Marx, Lightstone Property

Some of the Team Building Events facilitated for Lightstone Property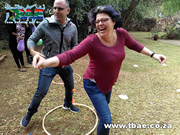 Lightstone Property Cooperation Outcome Based Team Building Cenurion
A group from Lightstone Property had their Cooperation Outcome Based team building facilitated by TBAE at 42 on King Guesthouse in Irene, Centurion, Pretoria. Cooperation between team members are essential to any team. Often a team of highly talented individuals will perform worse than a team of lesser talented individuals, simply because there is no cooperation within the team.
More companies that selected TBAE to arrange their team building events.