Team Building Events facilitated for Lion Roars by TBAE

The Lion Roars Group is proud to offer a distinctive portfolio of luxury boutique accommodation in beach, town, country and game reserve destinations, located in remarkable settings in Southern Africa.
Some of the Team Building Events facilitated for Lion Roars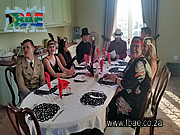 Lion Roars Murder Mystery Team Building Event at Hawksmoor House in Stellenbosch
The team from JHI Retail arrived at the "Murder Scene" where they got into character as either suspects or investigators by dressing up with the props and costumes provided by TBAE. The suspects then had to plead their case of being innocent. The investigators then questioned each suspect to try and decide who they think commited the crime.



More companies that selected TBAE to arrange their team building events.