Home > Customers > Lumacon Air Conditioning
Team Building Events facilitated for Lumacon Air Conditioning by TBAE

Lumacon is an established multi-disciplinary Contracting specialist contractor in electrical, mechanical and Building Management System installations, service, repair and maintenance. LUMACON has grown in leaps and bounds to become a viable, steadfast, robust, financially and technically sound company with a work force exceeding 60 permanent staff.
Some of the Team Building Events facilitated for Lumacon Air Conditioning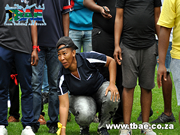 Lumacon Air Conditioning Communication Outcome Based team building event at Zulu Nyala Country Manor in Fourways, Johannesburg
A Communication Outcome Based Team Building was selected by Lumacon which was facilitated at Zulu Nyala Country Manor in Chartwell, Fourways, Johannesburg. As we are all aware, communication is a big part of our daily life. Whether it be in the workplace, at home, or socially, effective communication is an essential skill for everyone. Communication does not 'just happen', for effective communication to occur in a team there has to be an effective communication strategy in place. Communication does not begin with talking and convincing, but with hearing and understanding
More companies that selected TBAE to arrange their team building events.