Team Building Events facilitated for Nandos by TBAE

Nando's is an international casual dining restaurant chain originating with a Mozambican/Portuguese theme. Founded in 1987, Nando's operates about 1,000 outlets in 30 countries. Nando's specializes in chicken dishes with lemon and herb, mango and lime, medium, hot, extra hot or extra extra hot peri-perimarinades. In some countries, Nando's has other flavour options such as Mediterranean.
Nando's Testimonials
"Thank you to Fred and the crew for being patient and their professionalism, we had loads of FUN !! "
Zanele Mathabela. HR Practitioner - Inland Region | Nando's
Some of the Team Building Events facilitated for Nandos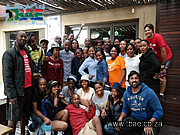 Nandos Tribal Survivor team building event at Meulstroom Lodge in Bronkhorstspruit
This event was the first time TBAE facilitated a team building event for Nandos. It was held Meulstrom Lodge in Bronkhorstspruit, and ideal venue for TBAE's Tribal Survivor themed outdoor team building event. This group delivered their war cries with great fun, and the team building exercises were also participated with much laughter.


More companies that selected TBAE to arrange their team building events.