Team Building Events facilitated for PDIT by TBAE

Public Discipline and Integration of Technology (PDIT) is an Information Communications Technology Security Company, specialising in the Security, Risk Management and Loss Control fields. They provide integrated and innovative Enterprise Wide Security Management IT Solutions, in South Africa and abroad.


Some of the Team Building Events facilitated for PDIT
PDIT Amazing Race team building event at Welgelee Wine Estate in Stellenbosch, Cape Town
The Amazing Race is a venue specific activity and varies from venue to venue. The group was divided into teams, which were then required to solve the clues they were given to find specific landmarks at the team building venue. The teams also compete against each other in some fun team building activities in which team work is required.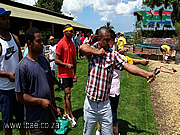 PDIT Hitting The Target team building event at Simonsberg Cafe in Stellenbosch, Cape Town
Simonsberg Cafe is in the heart of the Winelands, it is an exquisite venue with a peaceful atmosphere that lends itself to the ideal venue for your team building or conference. The team from PDIt selected the Hitting the Target team building activity. They tested their accuracy with exercises such as Catty Shooting and Blowdart Shooting.


More companies that selected TBAE to arrange their team building events.