Home > Customers > Romor Electrical
Team Building Events facilitated for Romor Electrical by TBAE

Romor Electrical is a leading independent wholesale distributor of premium branded electrical goods. The Ultimate Source For Electrical Supplies Without Boundaries!
Some of the Team Building Events facilitated for Romor Electrical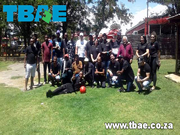 Romor Electrical Outcome Based Team Building team building event at Rietvlei Zoo Farm in Alberton
A Resilience Outcome Based Team Building was facilitated for Romor Electrical at Rietvlei Zoo Farm in Alberton, East Rand, Gauteng. Some of the team building exercises included:Minefield, Marble Run, Blindfold Collection and Hula Hoop Races. Resiliency is the ability to endure high levels of change while maintaining a high level of performance. Rather than an absolute characteristic, resilience is a combination of character traits in people. Resilient people tend to see more opportunities than non-resilient people. A Resilient team tends to grow stronger from the experience when they are confronted with the ambiguity, anxiety and loss of control that accompanies change. A team that is not resilient will tend to feel depleted from all the emotions that come with change. Resilient team members are able to make quicker and more effective adaptation to change.
More companies that selected TBAE to arrange their team building events.