Home > Customers > SA Natural Products
Team Building Events facilitated for SA Natural Products by TBAE

SA Natural Products is a proud distributor of world class health products - and promoters of the Living Naturally lifestyle. They bring the A.Vogel herbal, homeopathic, bodycare and food products; Bio-Strath herbal yeast tonic; PlusGel for chronic pain and THRESHHold RealMSM tablets ; the gluten-free Orgran Range and Thursday Plantation tea tree products.

SA Natural Products Testimonials
"Thank you so much for everything, the facilitators were great and everyone thoroughly enjoyed the activities!"Angelique, SA Natural Products
Some of the Team Building Events facilitated for SA Natural Products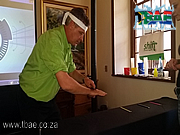 SA Natural Products Minute To Win It Challenge team building event at Lanzerac Hotel and Spa in Stellenbosch
A small group from SA Natural Products chose TBAE's very popular Minute To Win It theme for their indoor team building event held at Lanzerac Hotel and Spa in Stellenbosch, Cape Town. Participants were required to complete activities within sixty seconds. The difficulty of the activities increased as the event progressed.


More companies that selected TBAE to arrange their team building events.