Home > Customers > The Haven Night Shelter
Team Building Events facilitated for The Haven Night Shelter by TBAE

The Haven Night Shelter Welfare Organisation provides temporary shelter, physical care, social welfare and family re-unification services to adult homeless persons in the Western Cape. They believe in a future where communities, organisations, and government can create the supportive network to ensure that no-one is forced to live on the streets to survive.
The Haven Night Shelter Testimonials
"The Haven staff would like to thank you for an amazing day. They enjoyed everything especially the auction.
The spirits was good and they had a great time mingling with staff they don't usually get to see." - Marilize Arendse, Administrator at The Haven Head Office

Some of the Team Building Events facilitated for The Haven Night Shelter
The Haven Night Shelter Potjiekos Cooking team building event at Wynberg Park in Cape Town
This group from The Haven Night Shelter gathered at Wyberg Park for a Potjiekos Cooking team building which included team building activities such as: Face The Cookie, Netbal and Volleyball. When all their ingredients were ready, teams can began with cooking their potjie. While the potjies were cooking, teams competed against each other in a few team building exercises. Once the potjies were ready they were presented for judging. Everybody gets to eat from the potjies and after the meal the winning team and runners up were announced...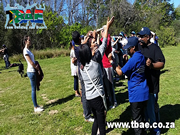 The Haven Night Shelter Amazing Race and Tribal Survivor team building event at Helderberg Farm in Cape Town
TBAE was delighted to facilitate this Amazing Race and Tribal Survivor team building for The Haven Night Shelter at The Helderberg Farm in Cape Town. The Amazing Race team building activity is inspired by The Amazing Race reality competition show. The race takes place on foot and is a venue specific event. Each event will be customized to suit the specific team building venue on the day. In the Tribal Survivor Challenge teams compete against each other in a variety of team building exercises designed to encourage teamwork, communication and cooperation. Points are awarded for each challenge and the team with the highest points at the end of the event is ....

More companies that selected TBAE to arrange their team building events.