Home > Activities and Exercises > Team Building Exercises > Traffic Jam
Traffic Jam Team Building Exercise
Traffic Jam is a real, 'brain buster' that requires a lot thinking and communication. This challenge is very similar to a human chess game. The group is split in two, with both sides working together to complete the challenge. Cooperation and planning are essential to complete this task.
The aim of Traffic Jam is for the two sides to work their way across to the opposite side in the same order. To achieve success, both sides must work together and carefully select the best move, if you make the wrong move, you will end up in a jam and will need to restart the challenge.
Participants may only move forward to an empty space and only one at a time. Participants cannot jump over each other or pass their own team mate. Only one spot per person is allowed (no sharing).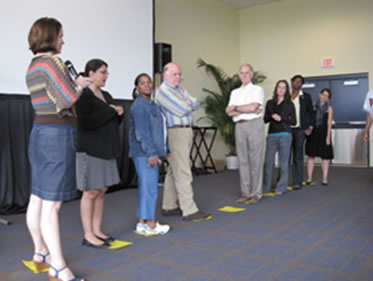 Suggested Learning Outcomes
Communication
Cooperation
Decision making
Problem Solving
Resilience and mental toughness