Home
>
Team Building Activities
> Frog Derby
Frog Derby Team Building Activity
TBAE's Frog Derby allows your team to try their luck as punters and their skills as jockeys. This team building activity is suited for any group size and focuses on decision making, negotiating skills, strategy development, communication and fun.
In the Frog Derby activity, your team becomes the proud owner of a "racing frog" – but only for the evening! To start the activity, frogs are auctioned and sold to the highest bidding team. Each team has to select their jockeys and with betting booths opened, the racing can begin.
The frogs move on string from one end of the course to the other and must stay in it's lane or be disqualified. The fastest frogs from each race qualify to "hop" in the Grand Final.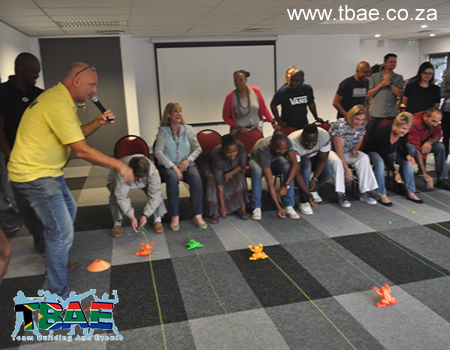 Recent Frog Derby Team Building Events
Sabinet in Centurion, Pretoria

You may also like:
Wacky, Wet, Weird & Wonderful , SA Mini Olympics , Sports Day , "Boeresport" Games , Tribal Survivor Challenge , Drumming , Amazing Race , Corporate Fun day , Minute to Win It , Movie Making , Hitting the Target , Beach Day , Boomwhacking , Raft Building and Racing , Heritage Games , Noot vir Noot , Murder Mystery , Art Workshop , Potjiekos Cooking Competition , Cook Around the World , Creative Construction , Combo Indoor Activities , Soft Skills Training Courses , Goal Setting Outcome Based Team Building , Leadership Outcome Based Team Building , Communication Outcome Based Team Building , Problem Solving Outcome Based Team Building , Cooperation Outcome Based Team Building , Resilience Outcome Based Team Building , Creative Thinking Outcome Based Team Building , Time Management Outcome Based Team Building , Decision Making Outcome Based Team Building , Trust Outcome Based Team Building