Home > Team Building Activities > Hitting the Target
Hitting the Target Team Building Activity
TBAE's team Hitting The Target team building activity emphasizes the importance of accuracy and correct decision making when working as a team.
The Hitting The Target team building activity starts with the group being divided into different teams using TBAE's ice breakers. These ice breakers are designed to divide the group up in a way that 'cliques' are separated and new relationships formed. The teams then go on to compete against each other in a number of challenges designed to test aim and targeting skills. Points are awarded for each challenge and the team with the highest points at the end of the event is declared the winning team.
Some possible outcomes of the Hitting The Target team building activity include focus, improving accuracy, reaching goals, goal orientation, teamwork, communication, leadership, cooperation, goal setting, creative thinking, decision making, problem solving, resilience, time management and trust.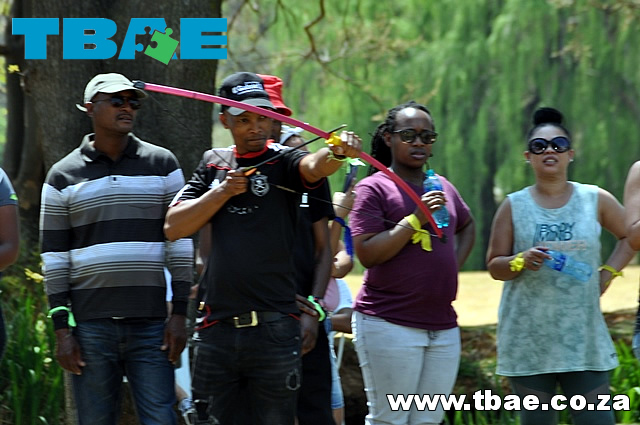 These are some of the team building exercises that may be included in the Hitting The Target team building activity. Your facilitator will select the appropriate exercises to match the venue and team on the day.

Penalty Shootout - Two teams compete against each other in this enjoyable and highly interactive activity. The one team has their turn at trying to score a goal, with each team member alternating after each attempt...


Catty Shooting - Catty Shooting is also known as slingshot shooting. The Catty is a small hand-held weapon that is powered by pulling back an elastic strips that is joined to the small pocket that holds the items being shot. In our activities a target needs to be hit a certain number of times...

Blindfolded Darts - Darts is a throwing games where the object is the hit the dartboard in different places depending on the specific game being played. We make the game more difficult by blindfolding the participants...

Air Rifle Shooting - Also known as Pellet or BB guns are used in this target shooting activity where points are scored and accumulated to see which is the winning team...
Ball Launcher - This device is normally used for dog owners to exercise their dogs, however in this activity it is used by the participants to try and hit the target from a long distance...

Pendulum Walk - In this hilarious activity the participants need to use thrusting movements to get a heavy object tied dangling from their hips, to move a ball from point A to point B in a relay race activity...
Wild Golf - This game can be played in just about any venue and is similar in concept to the tradional golf but used larger rubber balls and multi-purpose clubs...
Bouncer - Two contestants must each bounce ping-pong balls into either nine, eleven, or twelve glasses to meet their total quota of either 18, 22, or 24 glasses. They may not bounce ping-pong balls into their partner's glasses...
Elephant March - The contestant, wearing pantyhose on their head with a baseball at one end, must swing their head side to side to knock down 8 soda bottles. The bottles are set in two rows, each row is 8 feet (2.4 m) apart...

Rapid Fire - The contestant must shoot rubber bands to knock a triangle stack of six cans completely off a platform...

This Blows - The contestant must inflate a standard balloon, then release the air in a controlled fashion to blow 15 cups off a table...

Bhati - In this activity, one team tries to pick up as many objects as possible and place them into a crate, but only using their feet to do so. This they have to achieve while avoiding 'fire' from the opposing team...
Hitting The Target Gallery

Recent Hitting the Target team building events
SNG Khotso in Midrand
British American Tobacco
ABI The Lakes Hotel Benoni
Exxaro in Witbank
PDIT in Stellenbosch
ADIDAS in Paarl
Distell at Sea Villa Glen Craig
Luxury Hotel International in Stellenbosch
Itec at The Summit Venue in Midrand
The Dialogue Group in Waterberg
Nedbank in Muldersdrift
HPCSA in Pretoria
Sentech SOC LTD in Muldersdrift
NGK Ceramics in Stellenbosch
Sanlam Sky in Sandton
Phumelela Gaming in Muldersdrift
Old Mutual in Pretoria
Mercantile Bank in Sandton
MMK Engineers and Project Managers
ABSA at Wanderers Johannesburg
Roytec Global in Midrand
JSE at Thabo Eco Hotel in Johannesburg
MTN Hitting the Target in Bedfordview
See Also:
Hitting The Target Team Building in Cape Town
Hitting The Target Team Building in Johannesburg

Hitting The Target Events Testimonials

"We would like to express our most  sincere gratitude to you for all your assistance throughout .The team building was a huge success; everyone says they had so much fun .Wayne and Zuma did an amazing job as facilitators, tell them to keep up the good job!!!" Veronica Kgautlhe, Barclays Life Botswana

"Thank you for arranging the Team building event on Friday. Everything went well and everyone had fun. Wayne & Tebogo are great facilitators and kept us entertained." Laren Ramkhelawan, JSE

"On behalf of the whole team, we would like to say Thank you . Thank You. Thank you… for treating us to a spectacular team building session on Friday, 18 November 2016. Hylie, Thank you for the hospitality and the house is just … Truly 'Amazing'! We felt right at home. The food was fantastic and truly filling, I think the excitement got the better of our appetite though… thanks to James 'workouts'. We would also like to say thank you to James, for being a super fantastic and fabulous facilitator. He truly inspired us and taught us a lot. He is too… Amazing! Sonja, and Mari – Thank you for all your prompt responses and organizing this for us in such short notice. May all your work be truly blessed and we surely will recommend your teambuilding to whoever needs it." Rachel, Motheo Construction Group
"Compliments to the guys that set-up and host the activities, they are very professional absolute pleasure and money well spent. Thanks once again to your team." - Shannon Carmichael, Executive PA, Ingram Micro Southern Africa

Thank you very much for hosting a successful event. My client thoroughly enjoyed the teambuilding activities. Renet vd Merwe, Wild Events
More Hitting The Target Testimonials

You may also like:
Wacky, Wet, Weird & Wonderful , SA Mini Olympics , Sports Day , "Boeresport" Games , Tribal Survivor Challenge , Drumming , Amazing Race , Corporate Fun day , Minute to Win It , Movie Making , Hitting the Target , Beach Day , Boomwhacking , Raft Building and Racing , Noot vir Noot , Murder Mystery , Art Workshop , Potjiekos Cooking Competition , Cook Around the World , Creative Construction , Combo Indoor Activities , Soft Skills Training Courses , Goal Setting Outcome Based Team Building , Leadership Outcome Based Team Building , Communication Outcome Based Team Building , Problem Solving Outcome Based Team Building , Cooperation Outcome Based Team Building , Resilience Outcome Based Team Building , Creative Thinking Outcome Based Team Building , Time Management Outcome Based Team Building , Decision Making Outcome Based Team Building , Trust Outcome Based Team Building, A Day At The Races