Home > Johannesburg Team Building > Murder Mystery
Murder Mystery Team Building Activities in Johannesburg
TBAE coordinates and facilitates Murder Mystery team building activities in Johannesburg. TBAE provides costumes, props, scripts and whatever else that is required for the event. The Murder Mystery activity usually plays out over a meal but can be facilitated without it. Your TBAE team building facilitator will take the participants through the entire game on the day of the event. There are various entertaining Murder Mystery themes to chose from such as Death is a Cabernet Ol' Chum, Hulas and Homicide, Murder Is Par For The Course, Death Bemoans Her, Happy Deathday to You, Murder Plays A Sour Note and Death Ahoy ...more about the Murder Mystery Team Building Activity
**New** TBAE has brought the same entertainment and team building benefits of a traditional Murder Mystery event to the virtual team building realm with our new Virtual Murder Mystery events
You may also like these team building activities in Johannesburg: SA Mini Olympics, Hitting The Target, Tribal Survivor, Corporate Fun Day, Combo Indoor, Wacky Wet Weird & Wonderful, Movie Making, Minute to Win It, Potjiekos Cooking, Boeresport, Amazing Race, Karaoke, Noot vir Noot, Laughter Games, Communication, Cooperation, Creative Thinking, Decision Making, Goal Setting, Leadership, Problem Solving, Resilience, Time Management, Trust

Some of TBAE's Recent Murder Mystery Team Building Events in Johannesburg
Massmart Murder Mystery Team Building Event in Johannesburg - For this group from Massmart, the Murder Mystery team building was selected. The team building was facilitated at the indoor facilities at Indaba Hotel in Fourways, Johannesburg. The award-winning conference, meeting and banqueting facilities of Indaba are recognised as being some of the best and most comprehensive on the African continent. TBAE coordinates and facilitates Murder Mystery team building activities in Johannesburg. TBAE provides costumes, props, scripts and whatever else that is required for the event. ......more about the Massmart Murder Mystery Event

Randeor School Murder Mystery Team Building Event in Johannesburg - TBAE visited Randeor at their premised in Winchester Hill, Johannesburg to facilitated a Murder Mystery team building for their staff. The facilitator set the stage for the Murder Mystery theme and entertaining instructions were given for each stage of the activity, so there was no doubt about anything, other than finding out who is guilty of murder. TBAE's Murder Mystery team building activity is an entertaining way for your team to get to know each other as they work together to solve the mystery. ........more about the Randeor School Murder Mystery Event

Rubric Consulting Murder Mystery Team Building Event in Johannesburg - Rubric Consulting is a privately owned company situated in Johannesburg, South Africa. Established in 2007, RC currently employs in excess of 180 Software Quality Engineers. Servicing predominantly large corporate organisations in the financial, telecommunications and logistic industries, RC's Engineers are familiar with ensuring the delivery of quality software applications across large complex IT environments. People tend to only trust people that they know and understand. When you first start a team, it is important that you share your background with the team. Encourage the team to also share information about themselves and create opportunities for the team to socialize together. This Trust Outcome Based team building aimed at delivering just that. The team from Rubric Consulting also participated in TBAE's Murder Mystery Team Building........more about the Rubric Consulting Murder Mystery Event


Sanlam Sky Murder Mystery Team Building Event in Johannesburg - Sanlam Sky, a division of Sanlam selceted TBAE's Art Workshop and Murder Mystery team building which was facilitated at The Amazing Place in Sandton. The Amazing Place is a boutique venue & Spa offering small to medium size conferences and team building events in a beautiful garden setting centrally located in Woodmead, Sandton. TBAE's Murder Mystery team building activity is an entertaining way for your team to get to know each other as they work together to solve the mystery. Art Workshop team building activity highlights the importance of unity in diversity and creative thinking in a team. Large groups can participate in this activity as the size of a group is only limited to the number of canvasses.......more about the Sanlam Sky Murder Mystery Event



GSK Murder Mystery Team Building Event in Johannesburg - GSK (GlaxoSmithKline) is a science-led global healthcare company. They research and develop a wide range of innovative products in 3 areas of consumer healthcare, pharmaceuticals and vaccines. GSK also has a significant worldwide presence with commercial operations in more than 150 countries, a network of 84 manufacturing sites in 36 countries and large R&D centres in the UK, USA, Spain, Belgium and China. The team from GSK selected TBAE's Murder Mystery event. They arrived at Browns of Rivonia and dressed up as their characters. The rest dressed up as investigators. After the suspects played out their role they tried to prove their innocence to the investigators whilst trying to prove the others guilty. Once a rambling old farmhouse, Browns is a Johannesburg landmark. Situated in the heart of Rivonia, the restaurant boasts one of the finest wine cellars in the country as well as offering total tranquillity in its private gardens......more about the GSK Murder Mystery Event


Investec Murder Mystery Team Building Event in Johannesburg - Investec provides a diverse range of financial products and services to a niche client base in three principal markets, the United Kingdom, South Africa and Australia, as well as certain other geographies. Investec's strategic goals are motivated by the desire to develop an efficient and integrated business on an international scale through the active pursuit of clearly established core competencies in the group's principal business areas. Guests are seated for the event all dressed up (we bring costumes, character scripts and all clues that you will need) – everyone dresses up including all the investigators. The fun begins as each person tries to prove their innocence by proving someone else at their table guilty.....more about the Investec Murder Mystery Event



GlaxoSmithKline Murder Mystery Team Building Event in Johannesburg - GSK (GlaxoSmithKline) is a science-led global healthcare company. They research and develop a wide range of innovative products in 3 areas of consumer healthcare, pharmaceuticals and vaccines. GSK also has a significant worldwide presence with commercial operations in more than 150 countries, a network of 84 manufacturing sites in 36 countries and large R&D centres in the UK, USA, Spain, Belgium and China. The team from GSK selected TBAE's Murder Mystery event. They arrived at Browns of Rivonia and dressed up as their characters. The rest dressed up as investigators. After the suspects played out their role they tried to prove their innocence to the investigators whilst trying to prove the others guilty. Once a rambling old farmhouse, Browns is a Johannesburg landmark.....more about the GlaxoSmithKline Murder Mystery Event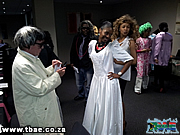 Waltons Murder Mystery Team Building Event in Johannesburg - TBAE recently facilitated a murder mystery event for Walton's Finance Department at the St Andrews Hotel and Spa in Johannesburg. The St Andrews hotel and Spa is located in Bedfordview, a central suburb in close proximity to OR Tambo International Airport and the Johannesburg CBD. The Theme "Murder plays a sour note" was selected. TBAE offers an ever increasing, wide variety of different themes, that are able to accommodate groups from 8 right up to 300 participants. This particular group decided that eight of the participants will role-play certain characters, and the rest of the group where detectives trying to solve the crime....more about the Waltons Murder Mystery Event



Waltons Murder Mystery Team Building Event in Johannesburg - This is the photo gallery for the Waltons Murder Mystery Team Building Event. Waltons supplies tools that allow you to go out into the world and achieve, and it is your success that makes them proud. Waltons stocks a wide range of stationery, hygiene and catering, technology, PC consumables and accessories, office furniture and Optiplan filing solutions. The Murder Mystery Team Building Activity was held at St. Andrews Signature Hotel in Johannesburg. Panoramic views, South African cuisine, seamless service and luxurious rooms, all served up at the stylish new St Andrews Signature Hotel. Centrally located between Johannesburg's bustling shopping and restaurant precincts and just a stone's throw from OR Tambo International airport, St Andrews Signature Hotel offers a haven of calm in Africa's busiest city centre. Guests arrive looking like their character role (TBAE provides all the costumes, characters, clues and scripts that you require). The fun begins as each person tries to prove their innocence by proving someone else at their table guilty....more about the Waltons Murder Mystery Event


Tourvest Duty Free Murder Mystery Team Building Event in Johannesburg - Tourvest Duty Free recently held a Murder Mystery event at The Nicol Hotel in Bedfordview, Johannesburg hosted by TBAE. Tourvest selected the "Death Ahoy" Theme where one of the passengers were murdered on board the cruise ship. Five of the fellow passengers were suspects and five of the participants role played these characters. The rest of the participants joined up as investigating teams of detectives to try and solve the Murder Mystery. The activity was done over a lunch which gave the participants time to spend together in an informal environment while enjoying themselves and applying their minds to the task at hand. Murder Mystery is a fun event that allows everyone to participate on a level with which they are comfortable......more about the Tourvest Duty Free Murder Mystery Event


Webber Wentzel Team Building Event in Johannesburg - Webber Wentzel chose TBAE to assist them with a Murder Mystery Team Building event in Johannesburg. Webber Wentzel is a leading law firm which aims to work alongside their customers as a trusted adviser, delivering innovative thinking and world-class legal expertise. With staff of approximately 800 people, including over 400 lawyers and offices in Cape Town and Johannesburg, their market-leading position is reinforced by a number of achievements and accolades. In the Murder Mystery Team Building activity, guests arrive looking like their character role (TBAE provides all the costumes, characters, clues and scripts that you require). The fun begins as each person tries to prove their innocence by proving someone else at their table guilty....more about the Webber Wentzel Murder Mystery Event


BASF Holdings Murder Mystery Team Building Event in Johannesburg - BASF Holdings delivers functional services to the various local companies, including BASF South Africa, with sales and industry offices also in Midrand and its world-class Mobile Emission Catalyst production site located in Port Elizabeth, as well as to leading supplier of coil coatings in South Africa, BASF Coatings located in Vanderbijlpark. Shumba Valley Lodge is ideally located for conference, leisure and business travelers who seek the tranquility of the countryside, whilst being within easy distance from both Johannesburg and Pretoria. Lanseria Airport is a mere 5 minutes drive from Shumba Valley Lodge and a 45 minute drive from Johannesburg's OR Tambo International Airport....more about the BASF Holdings Murder Mystery Event

Murder Mystery Team Building Venues in Johannesburg
The following are some of the venues where we have hosted Murder Mystery events in Johannesburg. You are welcome to arrange the venue yourself or if you prefer we can arrange the venue on your behalf.
Browns of Rivonia Team Building Venue in Sandton, Gauteng
Once a rambling old farmhouse, Browns is a Johannesburg landmark. Situated in the heart of Rivonia, the restaurant boasts one of the finest wine cellars in the country as well as offering total tranquillity in its private gardens. The large, though intimate, dining area spills out onto an airy patio that is opened up or closed in depending on the weather. Whether you are visiting Browns for an intimate dinner, a business lunch, a celebration or to entertain foreign guests, you will discover that service and quality are paramount.
Indaba Team Building Venue in Fourways, Johannesburg
Just north of the fast paced business world of Sandton, lies the Indaba Team Building Venue nestled beneath the vista of the magnificent Magaliesberg Mountains. It is a compelling blend of businesslike convenience and efficiency, along with a relaxed and warm country hospitality atmosphere. Indaba is a four star Johannesburg hotel located within easy travelling distance of all the city's main business and tourist attractions. It is renowned for its luxurious accommodation, excellent guest facilities, team building and function venues.
St. Andrews Signature Hotel Team Building Venue in Bedfordview, Johannesburg
Panoramic views, luxurious accommodation, South African cuisine, and seamless service are all served up at the elegant new St Andrews Signature Hotel & Spa, a luxury boutique hotel in Bedfordview, Johannesburg. Only a stone's throw from OR Tambo International airport and centrally located between Johannesburg's shopping precincts and bustling restaurant, St Andrews Signature Hotel offers a haven of tranquillity in Africa's busiest city hub.....
See More Murder Mystery Team Building Venues
See Also:
Murder Mystery in Cape Town
Murder Mystery in Pretoria
TBAE team building events in Johannesburg
Testimonials of Team Building Events in Johannesburg
Team building venues in Johannesburg
Team Building Activities for Schools in Johannesburg