Home
>
Team Building Activities
> Minute to Win It
Minute to Win It Team Building Activity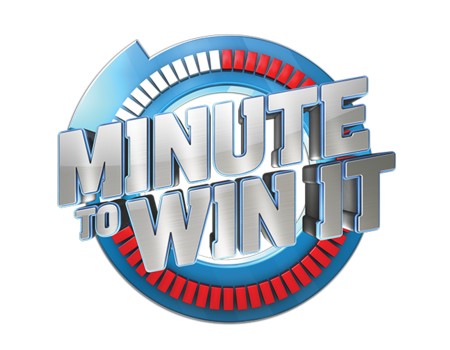 TBAE's Minute To Win It team building activity is inspired by the Minute to Win It international game show franchise. This activity gets everybody involved and is great fun for spectators and participators alike.
For the Minute To Win It activity, your group will be divided into teams which will compete against each other in a variety of challenges which have to be completed in one minute. The event starts with a team building ice breaker that is also used to divide the group into teams. The ice breaker is designed to divide the group up in a way that 'cliques' are separated and new relationships formed.
The Minute To Win It challenges are completed using everyday household objects such as elastic bands, paper cups, empty cans, balloons and toilet paper. Careful strategy is required as the team has to decide which members are going to attempt to complete which challenge. Points are awarded for each challenge and the team with the highest points at the end of the day is declared the winning team of the Minute To Win It event.
The Minute to Win It team building event is a great way to build team spirit with fun games such Back Flip, Penny Hose, Rapid Fire, Separation Anxiety, This Blows, Tilt-a-Cup, Dizzy Mummy and Elephant March.

Some possible outcomes of the Minute to Win It team building activity include teamwork, communication, leadership, cooperation, goal setting, creative thinking, decision making, problem solving, resilience, time management and trust.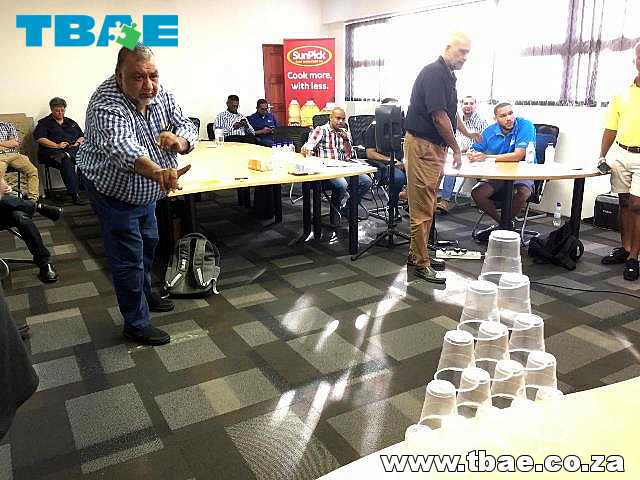 These are some of the team building exercises that may be included in the Minute to Win It team building activity. Your facilitator will select the appropriate exercises to match the venue and team on the day.
Back Flip - The contestant must flip and catch a set of pencils from the back of their hand, adding two more after each successful catch until they reached the specified number of pencils...
Penny Hose- The contestant must retrieve two pennies dropped into a pair of tights without stretching or bunching the tights or having one hand help the other...
Bouncer - Two contestants must each bounce ping-pong balls into either nine, eleven, or twelve glasses to meet their total quota of either 18, 22, or 24 glasses. They may not bounce ping-pong balls into their partner's glasses...





Rapid Fire-The contestant must shoot rubber bands to knock a triangle stack of six cans completely off a platform...





Dizzy Mummy - The contestant must unroll a toilet paper roll by executing 360-degree spins. Their fists must be closed at all times. The contestant fails the challenge if the toilet paper rips...





Separation Anxiety-The contestant must separate a pile of M&Ms by color into five separate containers in rainbow order. The pile is covered by either a glass or a plastic cup, and must be removed at the start of the time...



Elephant March-The contestant, wearing pantyhose on their head with a baseball at one end, must swing their head side to side to knock down 8 soda bottles. The bottles are set in two rows, each row is 8 feet (2.4 m) apart...




This Blows-The contestant must inflate a standard balloon, then release the air in a controlled fashion to blow 15 cups off a table...



Face the Cookie- The contestant, using only their face, must move cookies individually from their forehead to their mouth...

Tilt-a-Cup- The contestant must bounce a ping pong ball off the ground and catch it in a stack of plastic cups they are holding. The player must then transfer the top cup to the bottom of the stack and then repeat the process...


Minute To Win It Gallery
Recent Minute To Win It Team Building Events
One Insurance in Johannesburg
Standard bank in Dullstroom
EOH Mtombo in Bedfordview
Barclay's Botswana in Rustenburg
Tarsus in Sandton
Keyrus Digital in Durban
Distell in Kleinmond
Product Genesis in Edenvale
ANB Treasury in Ashton
FNB in Johannesburg
University of Stellenbosch
Sectional Title Solutions in Fourways
Sanlam Life Insurance
Kimberly Clark in Cape Town
Mashuta Bemarking in Kempton Park
Randeor School in Johannesburg
Balwin Properties Minute To Win It
Ekurhuleni East TVET College
Hyundai Automotive SA in Benoni
Africa Sunoil in Durban

Click here for more Minute To Win it Team Building Events
Blog Posts About Minute to Win It
Minute to Win It Team Building Exercises
See Also:
Minute to Win It in Cape Town
Minute to Win It in Johannesburg
Minute to Win It in Pretoria
Minute To Win It Events Testimonials

We would like to say a big thank you to your team for facilitating our Minute to win-it session this afternoon. Your team was absolutely fantastic and really re-ignited our teams' energy after a busy audit season. - Kerryn Lee, Financial Manager, Tarsus

Wow, what a truly lovely day and conference as a whole! Thanks again for all your efforts and for helping us out at last minute. Will definitely recommend you and your team. - Jacky - Distell

"I would just like to say Thank you from me and my team for a very well organised event yesterday. To say we laughed a lot would be a understatement and each and every one of my people came and said Thank you afterwards for the fun we had. We will definitely be making use of your services again as there is a few of the other events we really want to do." Morne Roux, Woolworths

" We would like to thank you and especially your two hosts that facilitated the minute to win it team building on Friday.  It was an absolute amazing success and James & Monde had our team in stitches and everyone had a wonderful time! We will definitely make use of your organization in future and thank you once again for assisting us!" - Elzane Maritz, ONE Insurance

More Minute To Win It Testimonials
Minute To Win It Team Building Venues
The following are some of the venues where we have hosted Minute To Win It events in South Africa. You are welcome to arrange the venue yourself or if you prefer we can arrange the venue on your behalf.
Hillcrest Quarry Team Building Venue in Durbanville, Cape Town
Situated in the heart of the Durbanville Wine Valley, Hillcrest Wine Estate's function and event venue, The Quarry, has been the home to many weddings, functions, festivals and concerts over the past years. Locacated in a rehabilitated quarry makes this one of Cape Town's most unique venues. With 7000 square meters of rolling lawn and a 15000 square meter lake surrounded by a cascade of rock cliffs, makes this an ultimate setting for any event....

Commodore Hotel Team Building Venue in Cape Town
There are many reasons why Cape Town is regularly selected as one of the top tourist destinations in the world for location, sight-seeing and dining. Experience everything special that Cape Town has to offer while staying in this stylish and elegant setting. Located in the Victoria & Alfred Waterfront, The Commodore Hotel provides sweeping views of Table Mountain, Cape Town Harbour and Robben Island. 

Thaba Eco Hotel Team Building Venue in Kibler Park, Johannesburg
Thaba Hotel won the Lilizela Tourism Award for 2016 for setting the benchmark in service excellence. Contributing to the industry, investing in skills provision, leading by example and for ensuring that each guest is given a world-class experience in Gauteng! Surrounded by Johannesburg's Klipriviersberg Nature Reserve, Thaba Eco Hotel is known for luxurious accommodation in Johannesburg, successful functions, dream weddings and delicious dining, as well as an authentic commitment to ecology and conservation.


See More Minute To Win It Team Building Venues

TBAE works in partnership with SA Minute to Win It Games to bring you fun Minute to Win It events throughout South Africa.
You may also like:
Wacky, Wet, Weird & Wonderful , SA Mini Olympics , Sports Day , "Boeresport" Games , Tribal Survivor Challenge , Heritage Games , Drumming , Amazing Race , Corporate Fun day , Minute to Win It , Movie Making , Hitting the Target , Beach Day , Boomwhacking , Raft Building and Racing , Noot vir Noot , Murder Mystery , Art Workshop , Potjiekos Cooking Competition , Cook Around the World , Creative Construction , Combo Indoor Activities , Soft Skills Training Courses , Goal Setting Outcome Based Team Building , Leadership Outcome Based Team Building , Communication Outcome Based Team Building , Problem Solving Outcome Based Team Building , Cooperation Outcome Based Team Building , Resilience Outcome Based Team Building , Creative Thinking Outcome Based Team Building , Time Management Outcome Based Team Building , Decision Making Outcome Based Team Building , Trust Outcome Based Team Building, A Day At The Races