Home > Team Building Activities > Tribal Survivor Challenge
Tribal Survivor Challenge Team Building Activity
TBAE's Tribal Survivor Challenge team building activity is inspired by the Survivor reality game show franchise. This team building activity is a fun, exciting and interactive event that is suitable for all ages and fitness levels.
The Tribal Survivor Challenge starts with the group being divided into different tribes using TBAE's ice breakers. These ice breakers are designed to divide the group up in a way that 'cliques' are separated and new relationships formed. Each tribe then gets together to come up with a name for their tribe. They also have to create a flag and a war cry related to the name of the tribe and present them in front of the other tribes.
The tribes then proceed to compete against each other in a variety of team building exercises designed to encourage teamwork, communication and cooperation. Points are awarded for each challenge and the team with the highest points at the end of the event is declared the winning tribe.
Some possible outcomes of the Tribal Survivor Challenge team building activity include teamwork, communication, leadership, cooperation, goal setting, creative thinking, decision making, problem solving, resilience, time management and trust.
For someting similar as a virtual team building activity see our Online Scavenger Hunt.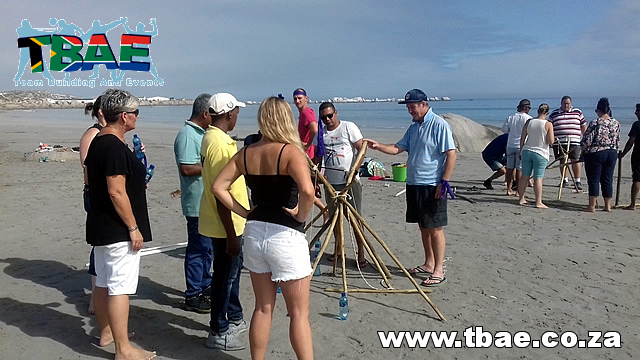 These are some of the team building exercises that may be included in the Tribal Survivor Challenge team building activity. Your facilitator will select the appropriate exercises to match the venue and team on the day.
Hoola Hoop Races - In this fun and simple team building exercise, teams compete against each other in a race with hula hoops. The team member is given two hula hoops and must always be "inside" the hula hoops, by stepping inside one an lifting the other hula hoop and placing it in front...

Catty challenge - All the targets must be eliminated before moving on to the next activity. Team members need to collect their own ammunition. Accuracy is key!!!



Plank Walk - Teams race against each other with multiple participants from each team sharing a pair of planks...





Blindfolded into the Unknown- It's dark and one tribe member must lead the rest of the tribe to civilization avoiding traps along the way...



Mini Raft Building- Using the materials provided, build a miniature raft and present the raft to the local tribal chief. Be prepared to get wet and dirty...




Water Transfer - Teams need to transfer water from one side to the other using a combination of different equipment including canvas sheets and pipes with holes in them. Prepare to get very wet...




Bhati - In this activity, one team tries to pick up as many objects as possible and place them into a crate, but only using their feet to do so. This they have to achieve while avoiding 'fire' from the opposing team. If anyone does get hit by a 'missile', they need to get out of the designated area...
Gumboot Dancing - The tribes are taught this traditional dance and then need to perform in order to survive the tribal council...



Spider's Web - Each member of the tribe needs to get through the spiders web however each opening is only able to be used once. If the spider's web is touched the hole is closed and the team member needs to start again attempting a different opening...



Minefield - The team have come to a battlefield that has been laid with mines. One person at a time must attempt to cross the battlefield without stepping on a mine...




Drumming - The tribes compete against each other in a drumming competition after been taught the basics by our drumming facilitator...


Tribal Survivor Challenge Gallery

Recent Tribal Survivor Challenge Team Building Events
McKinsey and Company in Fourways
VFS Global in Fourways
FM Solutions in Stellenbosch
GSK at Ruslamere in Durbanville
De Beers Marine in Cape Town
Mcathama Project and Consulting
Cornwall Hill College in Pretoria
Multichoice in Muldersdrift
Spintelligent in Cape Town
Aldorado Park Principal Forum
Carl Zeiss in Cape Town
Varsity College in Randburg
Medscheme in Florida
Ligno Tech SA in Durban
NMG Agency in Fourways
Old Mutual Investment Group Cape Town
Lancewood Tribal Survivor
Public Service Co-ordinating Bargaingin Council


Click here for more Tribal Survivor Team Building Events
See Also:
Tribal Survivor Challenge in Cape Town
Tribal Survivor Challenge in Johannesburg
Tribal Survivor Challenge in Pretoria

Tribal Survivor Events Testimonials


"I just wanted to say a big thank you for your staff that facilitated our Event at the Karridene on Friday, 10th November. We have received such positive feedback – so we have many happy staff members. The guys were excellent I must say – kept us entertained and on our toes the whole time. Please convey our gratitude to them." Debbie, LTSA


"The Haven staff would like to thank you for an amazing day. They enjoyed everything especially the auction. The spirits was good and they had a great time mingling with staff they don't usually get to see." Marilize Arendse, Administrator at The Haven Head Office

"The team building was good very well organized, thanks a lot to you and your team." Keenan Hans, VFS Global

"Thank you so much for the report and for the amazing day of facilitation you and your team did with our children - they really had a blast! Looking forward to working together in the future." Sam Pretorius, School Counsellor, Weizmann Primary School
"On behalf of the whole team, we would like to say Thank you . Thank You. Thank you… for treating us to a spectacular team building session on Friday, 18 November 2016. Hylie, Thank you for the hospitality and the house is just … Truly 'Amazing'! We felt right at home. The food was fantastic and truly filling, I think the excitement got the better of our appetite though… thanks to James 'workouts'. We would also like to say thank you to James, for being a super fantastic and fabulous facilitator. He truly inspired us and taught us a lot. He is too… Amazing! Sonja, and Mari – Thank you for all your prompt responses and organizing this for us in such short notice. May all your work be truly blessed and we surely will recommend your teambuilding to whoever needs it." Rachel, Motheo Construction Group


More Tribal Survivor Testimonials
Tribal Survivor Team Building Venues
Indaba Team Building Venue in Fourways, Johannesburg
Just north of the fast paced business world of Sandton, lies the Indaba Team Building Venue nestled beneath the vista of the magnificent Magaliesberg Mountains. It is a compelling blend of businesslike convenience and efficiency, along with a relaxed and warm country hospitality atmosphere. Indaba is a four star Johannesburg hotel located within easy travelling distance of all the city's main business and tourist attractions. It is renowned for its luxurious accommodation, excellent guest facilities, team building and function venues.

Devon Valley Hotel Team Building Venue in Stellenbosch
Devon Valley Hotel is one of Stellenbosch's best-kept secrets, both viticulturally and scenically. Vines have been flourishing here since the 18th century, and it has a desirable status, not only for the source of premium grapes but also the red wines produced here. The Devon Valley Hotel's fifty stylishly furnished overnight teambuilding accommodation rooms reflect the modern colonial sense of the hotel while enjoying clear views of the mountains, olive groves and vineyards. The executive suites in the Manor House and spacious luxury rooms are the hotel's premier offering, perfect for team building events or a rejuvenating retreat..
Ruslamere Team Building Venue in Durbanville
Celebrated for its facilities, atmosphere and service; Ruslamere offers a tranquil setting for team building events in the Durbanville suburb of Cape Town. The Ruslamere Team Building Venue comprises 39 luxury bedrooms, seven upmarket Conference Venues, the Pure Day Spa and Wellness Centre, Indoor and Outdoor Swimming Pools and a Gym. Owners Russell and Gisela Rathbone, who established the Ruslamere Team Building Venue in 2005, are actively involved in the day-to-day running of the venue. Assisted by a staff compliment of thirty, a hands-on approach and attention to detail ensure that high levels of service are always met...
More Tribal Survivor Team Building Venues

You may also like:
Wacky, Wet, Weird & Wonderful , SA Mini Olympics , Sports Day , "Boeresport" Games , Tribal Survivor Challenge , Drumming , Amazing Race , Corporate Fun day , Minute to Win It , Movie Making , Hitting the Target , Heritage Games Team Building , Beach Day , Boomwhacking , Raft Building and Racing , Noot vir Noot , Murder Mystery , Art Workshop , Potjiekos Cooking Competition , Cook Around the World , Creative Construction , Combo Indoor Activities , Soft Skills Training Courses , Goal Setting Outcome Based Team Building , Leadership Outcome Based Team Building , Communication Outcome Based Team Building , Problem Solving Outcome Based Team Building , Cooperation Outcome Based Team Building , Resilience Outcome Based Team Building , Creative Thinking Outcome Based Team Building , Time Management Outcome Based Team Building , Decision Making Outcome Based Team Building , Trust Outcome Based Team Building, A Day At The Races