Home > Team Building Activities > SA Mini Olympics
SA Mini Olympics Team Building Activity
Experience the team spirit, competitiveness and excitement of the Olympics with TBAE's SA Mini Olympics team building activity. To start the Mini Olympics, your group will be divided into teams with each team needing to create a name for their made up country. This newly created country will need its own anthem and flag which each team will have to write and perform in front of the rest of the teams at the opening ceremony. With the opening ceremony completed the games can now begin. Teams will compete against each other in a variety of activities that are both fun and designed to get the team members working together as a team. The activity ends with the closing ceremony where the victorious team sings their anthem.

Available at an additional cost (not included in standard event):
Medals
Green Screen for Opening & Closing Ceremony
Some possible outcomes for the SA Mini Olympics team building activity include teamwork, communication, leadership, cooperation, goal setting, creative thinking, decision making, problem solving, resilience, time management and trust.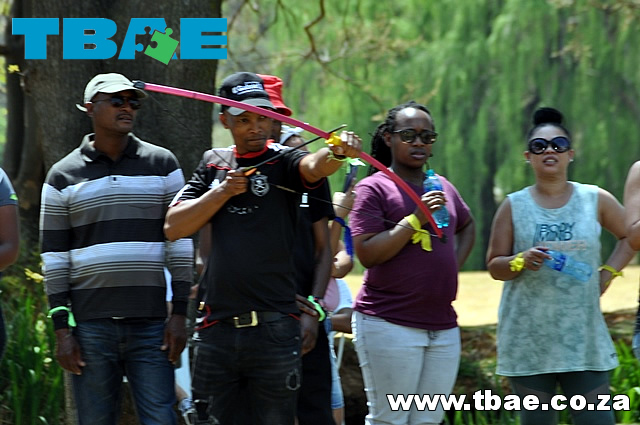 These are some of the team building exercises that may be included in the SA Mini Olympics team building activity. Your facilitator will select the appropriate exercises to match the venue and team on the day.

Penalty Shootout - Two teams compete against each other in this enjoyable and highly interactive activity. The one team has their turn at trying to score a goal, with each team member alternating after each attempt. The other team then tries to defend with each team member alternating...
Tug of War Team Building Exercise - Tug of War is a long standing favourite team building exercise. A real sense of teamwork is created as young and old, big or small, work together as a team to come up as the victor in this battle of strength...

Catty Shooting - Catty Shooting is also known as slingshot shooting. The Catty is a small hand-held weapon that is powered by pulling back an elastic strips that is joined to the small pocket that holds the items being shot. In our activities a target needs to be hit a certain number of times...
Hoola Hoop Races - In this fun and simple team building exercise, teams compete against each other in a race with hula hoops. The team member is given two hula hoops and must always be "inside" the hula hoops, by stepping inside one an lifting the other hula hoop and placing it in front...

Kruiwa Stoot Team Building Exercise - Also known as wheelbarrow races, kruiwa stoot is a fun and energetic team building exercise. Two team members compete in a race, where one is crawls on their hands, while the other participant lifts their ankles...



Marble Run - A marble needs to be rolled from point A to point B using pipes. The contestants need to join the pipes together without the marble falling to the ground. If the marble hits the ground at any point they have to start again...



Three Legged Race Team Building Exercise - An old classic and favourite activity, three-legged race is all about cooperation between team members as much as it is one of speed. Two participants attempt to complete a short race with the right leg of one team member strapped...
Volley Ball -Two teams are separated by a net. Each team tries to score points by grounding a ball on the other team's court...



Sack Race Team Building Exercise - The sack race is a fun and competitive game where participants put both of their legs inside a sack that reaches to their waist. They then need to jump forward inside the sack from a starting point to the finishing line...



Netball - Played on a rectangular court, each team attempts to score goals by passing a ball down the court and shooting it through the goal ring...




Air Rifle Shooting- Also known as Pellet or BB guns are used in this target shooting activity where points are scored and accumulated to see which is the winning team...
Plank Walk - Teams race against each other with multiple participants from each team sharing a pair of planks...


SA Mini Olympics Gallery
Recent SA Mini Olympics Team Building Events
IFC at Indaba Hotel in Fourways
Parmalat in Helderberg
KPMG in Stellenbosch
Right To Care in Muldersdrift
Engen in Stellenbosch, Cape Town
ABSA in Kempton Park
Groot Constantia Trust in Constantia
Distell at Sea Villa Glen Craig
Allan Gray in Cape Town
Silvasale in Johannesburg
Nu Africa Duty Free Shops Pretoria
Nedbank in Muldersdrift
Alexander Forbes in Magaliesburg
Free State Legislature in Bloemfontein
M-Net in Muldersdrift
Stanlib in Hartbeespoortdam
Twizza in Middelburg
Ambledown Financial Services
Constantia Insurance Company
Numeric in Cape Town
American Tower Corporation in Sandton
Massmart at The Amazing Place in Sandton
Medscheme at Glenburn Lodge Muldersdrift
Mercantile Bank in Pretoria
Refinery Stores in Durbanville, Cape Town
Bible Society of South Africa

See Also:
SA Mini Olympics in Cape Town
SA Mini Olympics in Johannesburg
SA Mini Olympics in Pretoria
SA Mini Olympics Events Testimonials
"Thank you for the guys facilitating us this afternoon. They were great." - Minette Jansen van Vuuren, Bible Society of South Africa

"Thank you very much :). It was a lovely day & we had so much fun! "- Charl Woest, Refinery Stores
"Just wanted to say a BIG THANK YOU to Duncan & Team. They kept us entertained all the way, everyone enjoyed the activities planned.  JOB well done we will recommend your services to our colleagues for their team building in the future." Zakeeyah Loonat, Nedbank

"Thank you for all your organising. We had a wonderful time." Jo Denysschen, Administrator, Numeric
"The team really enjoyed the activities, each and every one and it was so difficult to even predict the effects of the activities.  Mission accomplished so thank you very much." Buyie Chamane, Mondi
"Thank you very much on your assistance in making our teambuilding a success." Dipuo Chaka, Membership Manager | Ambledown Financial Services (Pty) Ltd

More SA Mini Olympics Testimonials

You may also like:
Wacky, Wet, Weird & Wonderful , SA Mini Olympics , Sports Day , "Boeresport" Games , Tribal Survivor Challenge , Drumming , Amazing Race , Corporate Fun day , Minute to Win It , Movie Making , Hitting the Target , Beach Day , Boomwhacking , Raft Building and Racing , Noot vir Noot , Murder Mystery , Art Workshop , Potjiekos Cooking Competition , Cook Around the World , Creative Construction , Heritage Games , Combo Indoor Activities , Soft Skills Training Courses , Goal Setting Outcome Based Team Building , Leadership Outcome Based Team Building , Communication Outcome Based Team Building , Problem Solving Outcome Based Team Building , Cooperation Outcome Based Team Building , Resilience Outcome Based Team Building , Creative Thinking Outcome Based Team Building , Time Management Outcome Based Team Building , Decision Making Outcome Based Team Building , Trust Outcome Based Team Building, A Day At The Races